Irish Hiking Scarf
Topic: Knitting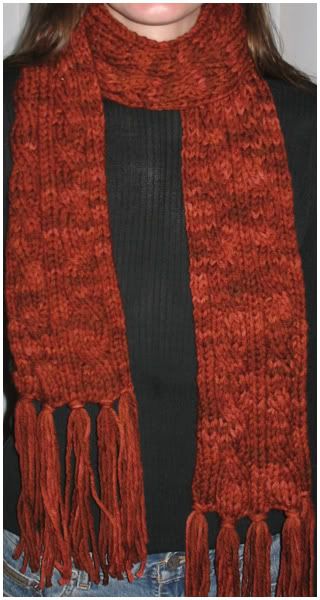 This scarf I knitted for my sister Jennifer for Christmas. You can see her wearing it on her myspace page. I used size US 10 1/2 knitting needles, Marron Wax Bulky Merino (almost 2 skeins) from handpaintedyarn.com and the
Irish Hiking Scarf Pattern
you'll find at that link. I find it to be a really beautiful scarf and plan on making one for myself very soon. The yarn was unbelievably soft.
The sweater is almost done and I'll be posting pictures of that in a few days.
I modified the scarf pattern by making only two repeats of the cable
pattern instead of three. I did this because I was using a bulky yarn and didn't want the scarf to be
humungous. I cast on 30 stitches and had no troubles.
Posted by Shiva at 10:04 PM MST
Updated: Saturday, 30 December 2006 10:10 PM MST