Simple Knitted Bodice is Done
Topic: Knitting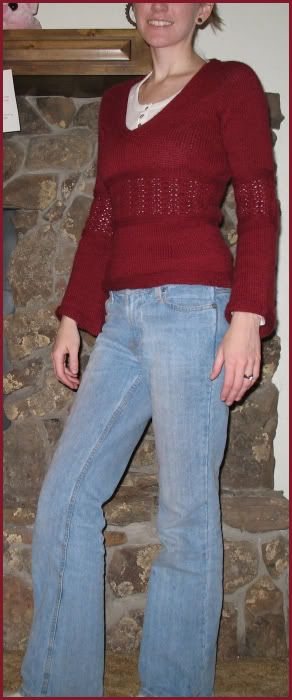 Sorry for the picture overload, but I had to do it! I'm so happy to finish my first sweater ever. I started it on December 13th and finished the knitting january 2st, then it had to be washed and layed out to dry and blocked, which took a couple days. Granted I don't have a job, this is just about all I did during those 3 weeks.
Knitter's Notes
Yarn: Knitpicks Andean Silk in Hollyberry. I used 10 balls
Needles: To get gauge I used size 4, then 3 as my knitting loosened up for the large needles, and for the lace size 0. Yes, it took forever to do the lace.
Pattern: Stitch Diva's Simple Knitted Bodice in size XS (i'm generally a size small, bust 34)

There are little mistakes scattered about the sweater, but the kind of things probably not many, if any, will notice besides me. I knitted the extra small because people were coming out with sweaters too big, and this yarn was supposed to grow with blocking and washing. Well, I'm pretty happy how that turned out. When I first tried it on, before blocking, the sleeves and waist were about 2 inches shorter than I would have liked. So I prayed that water would take care of that, and it pretty much did. I really


think the size is perfect for me. As I wear it today the sleeves seem to shrink up a eensy weensy bit, and i think that's because my arms pretty much fill the sleeves width wise, and I've read that most fabrics can only stretch in one direction. So as it stretches width wise to accomodate my arms, it looses a little length, but not much.
<> The main thing I'm unhappy with is that it's ITCHY!!!!!!!!! Bah! I was planning on wearing something underneath, but it definitely has to be a long sleeve something, and so far i've found it hard to find simple long sleeve t-shirts with a neckline that I like to have sticking out from the sweater. The sweater neckline itself actually came out high enough that I could wear it alone and not be showing much, if any, cleavage. But I'd be itchy as hell. I think it's the alpaca content, though I'm not sure. It is a hairy fabric, you can see hairs sticking up everywhere which gives it a nice fuzzy look. I also love the drape, which doesn't really come through until after washing, but it's really nice.
<> I do love this sweater, though. I'm thinking of making a short , cap sleeved one in a machine washable, lighter fabric for summer.
<> Next on my list is a sweater for Ron,
Avast
(ignore the lump on my butt, it is NOT part of the sweater design, it just caught on my pants. :) )
Posted by Shiva at 3:09 PM MST
Updated: Thursday, 4 January 2007 3:14 PM MST