Peek Into My Life
Now Playing: live365.com
Topic: Home
Above you'll see some snow. This was just after the most recent first snow. After this picture was taken it snowed a few more times, and THEN i went out driving and had the experience below about the car sliding. I don't have any pictures of me playing in the snow, or building a snow man, because that hasn't happened yet. I like to run to the window every half hour and check to see how much more snow has fallen and squeal about it. But I haven't taken to full out playing in it yet.
Above is Ron riding his stationary trainer bike on the porch in the freezing snow. I don't know how he does it. He's kinda dark in that picture, but he's only wearing shorts and a tank top, and a little head band, not to keep his ears warm, but to keep the sweat from pouring into his face. He's that hot and sweats that much that even when it's below freezing outside, he needs no extra gear. Granted he's not moving, so no real wind, but to me it's extreme.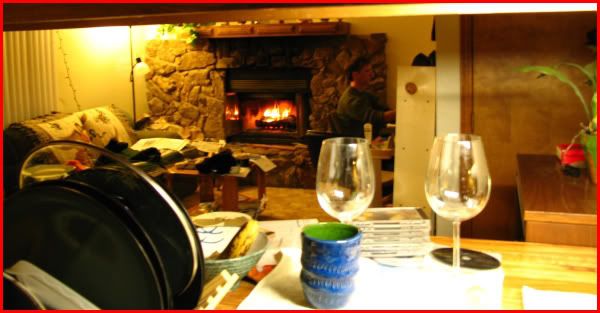 Here's my lovely view from my kitchen while i make dinner. I was making dinner one night and was so happy and thought it looked so cool (and I'd had a glass of wine) that I had to snap a little picture of the fire and ron and everything. You can sort of see my knitting projects strewn all over the couch and coffee table. That's the general state of affairs around here.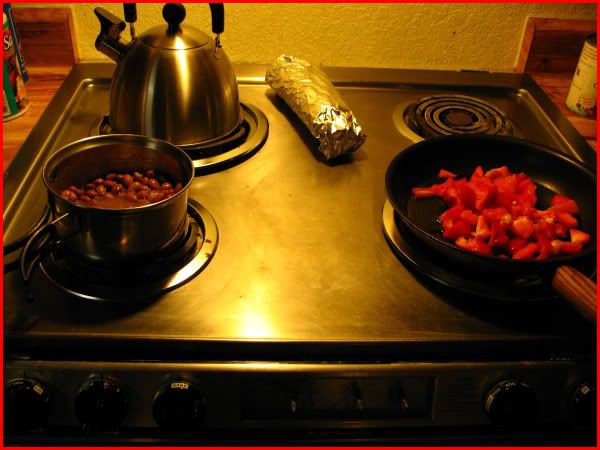 And since I had the camera out, I figured I would take a picture of what i was cooking! Probably mostly retarded, but I've been reading blogs lately and getting into the voyeristic aspect of it, so I figured you'll probably be entertained by my dinner. Perhaps. The easiest mexican food! Organic Pinto beans from the can, heated up; red peppers sauteed; later i scrambled eggs with hella cumin and chili powder; tortillas are wrapped in foil getting read to warm in the oven. Put eggs, beans, and peppers in a tortilla and smother with salsa and wrap. Yum.
Tonight I'm on a mission to make Cuban Sandwiches which I am super stoked about. I just got a craving and lamented because I don't live anywhere near Miami, then I realized I could probably make them myself. So I have a jar of pickles and a loaf of french bread, two things I normally never buy, waiting for my experiments later.
The Body Bar
I feel I must rant about my job a little more because I feel so damn lucky. I have done three massages there so far, and (aside from driving home and almost losing the truck) it has been wonderful every time. The owner and people who work there are all friendly and fun to work with, it's casual, and the pay is better than HAWAII!!! Crazy. I didn't think it was possible. The place is pretty fancy, it's only been open a year so it looks pristine and shiny, the rooms are really spacious and well appointed. Driving home today from the one massage that I did, I felt again eternally grateful that I can do something I love so much, that is relaxing and non-stressful (unless I'm doing 6 massages a day everyday, then I get pretty tired) that is lucrative enough to make me some money, and it's not a 9-5 job!!! I'm like, who should I be thanking for this? How did I get to deserve this, while others slave away!?!? I don't know, but it's something I continually feel gratitude for, like everyday, and try to express it to the universe, mainly in prayers and blog posts.
Posted by Shiva at 6:48 PM MST