Pictures, icicles, yarn...ya know
First I give you, Ron in his new hat: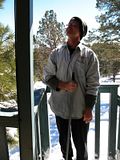 You can really see great detail of the hat in this picure, but I loved how he struck a pose, so there you have it!
Below you'll find a beautiful icicle, and several gratuitous shots of me in my new hat. I love Pom poms!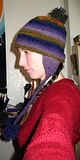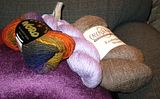 Well, I have done something terrible to the formatting on this page. Perhaps someday I'll figure out what I did. In the meantime, you get this jumble. The lavender yarn on the far left is slated for a Lotus Blossom Tank While the Rainbow Noro you see quickly turned into the hat on my head above. The brown Cascade eco wool was a super deal, untreated, undyed, very inexpensive and supposedly very sturdy, to become a winter sweater for me, though we are praying for winter to melt away very soon. The navy blue Cascade Tencel blend on the bottom is for Lauren's Bohemian Poncho which I'm excited to start on very soon.
<> I've got more pictures coming soon. Ron's sweater got fixed and I"m SO HAPPY! very soon you'll see pics of him wearing it and details about how it got fixed. Also closeups of his hat.
<> In other news, I'm beginning to see how popular blogs are (I'm just a little slow) and I read an article in massage magazine about blogging to boost business. Well, I think I may put a link from my website to this blog, and try and start making some "massage relevant" posts, which I think would be fun anyway. I don't know, stuff about what massage has done for me, or about healing and health in general.
<> <>What I think is so cool about blogs is that people are just writing about normal stuff. In fact, that's what makes them so interesting. They're not (usually) contrived and boring, at least not the good ones. They're educational in a conversational way, and they are intimate in an almost boring way -- people tend to disclose the little details about their lives, which seems to be what everyone is hungry for, hence their popularity.
<> So I'm going to try and write about stuff that matters, that people who get massage from me would want to read, without being too stuffy, because I think that's what I tend to do. I put on my college paper writing voice and ....that's probably why I stopped liking to write
Ah! almost forgot the last picture. My feet. I seem to remember lauren likes to take pictures of her footies randomly about, and I liked looking down at my feet this particular moment:
<><>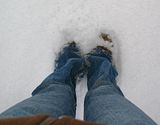 Posted by Shiva at 2:22 PM MST
Updated: Sunday, 4 February 2007 2:49 PM MST